Farmers are considered to be the backbone of the Indian society. They work hard day in and day out so as to make the food we eat available and reach to our homes. But what about the grievances the farmers have to face? The increasing suicide cases are an indication of the alarming condition these farmers have to witness. Thanks to the era of digitization and technology that makes entrepreneurs think out of the box and to offer solutions what the society needs. And here comes a story of such entrepreneurs.
Leaving a prestigious job to pursue one's heart calling is the new normal these days. But the journey of these men is different. They programmed ultimate magic with what they created after leaving golden opportunities, calling them out from different parts of the world.
Introducing to you, Anil Mishra and Sachin, the co-founders of "FarmTree". A hardcore developer by profession, Anil has been a part of the Indian IT industry for 5 years and dynamically worked in 11 states of the country.
Sachin, on the other hand, is a technical maven by the mind and an intellectual thinker at heart. His enriched experience in the domain of product architecture and other technical nuances is laudable.
However, as their stars would have it, the result of Anil and Sachin joining hands was nothing ordinary but FarmTree – a one-in-all dairy solution app and more.
It was Avik, Anil's batchmate at college who identified the pressing need for technological upgradation in the realm of dairy farming. He interacted with farmers, observed their practices and assimilated data which acted as the launchpad for FarmTree.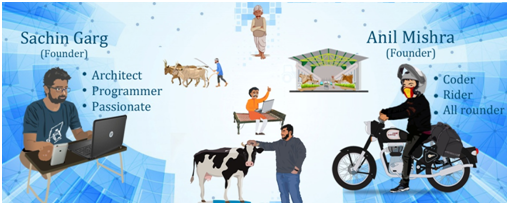 Incidentally, Avik shared his farm experiences and introduced Anil and Sachin to two farmers who were desirous of having a customised farm management software. After hearing to the pain-points of the farmers, Anil and Sachin
explored the realms of dairy farming, visited small dairy farms of 5-10 hectares. Subsequently, they realised that there was an undeniable need of a dairy management platform to organise it. The duo was then convinced and
prompted to invest their heart and soul into this sphere and decided to create a platform which becomes a dairy farming guide for the farmers. The agenda was to enable and equip farmers with the right tools to assess and boost long-term profitability through an automated software. The astounding quality of FarmTree's software was underpinned by the cognitive and intellectual abilities of both geniuses.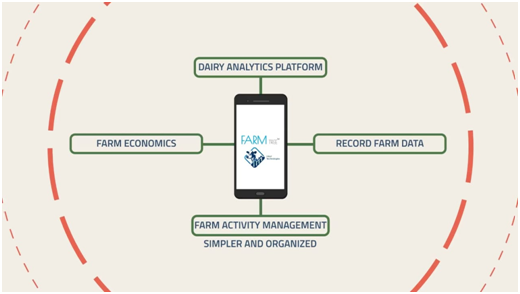 The plight they discover was being a medium scale dairy farm with the well-equipped system installed on the farm, management issue was severe and had a huge impact on the revenue of farms due to lack of cattle health and activity tracking. The lack of knowledge and management creates an impact on cattle's health resulting low yield leading to farmer's loss. After a specific period, if proper actions not taken, farmers make a minimum loss of 6500 INR in every 21 days from a cow. This is a huge impact on their livelihood and this is where they decided to avail
system to most of the farmers and came up with a dairy management platform than a standalone software. The platform is as economical as it cost a maximum of 15 paise per litre and can be used by technologically challenged
farmers. The system tracks the expected breeding activity in the herd, communicate to farmer ahead of time and help to increase the revenue of farmers.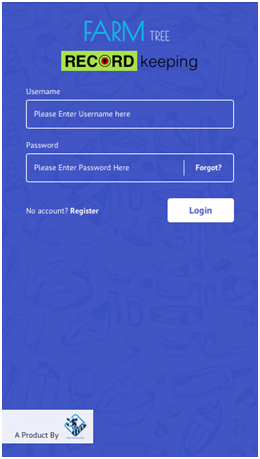 It has relieved farmers of the manual task of cattle productivity assessments, quality checks, monitoring production, tracking growth, ensuring improvement and more. The app which took almost 1.5 years to build the
application has been successfully serving for the last 6 months and shall continue for the longest time to come.
FarmTree is today creating immense possibilities in the relatively uncharted realms of dairy farming and cattle production. The software has pioneered the journey of digitising cattle farming. The software which has proved to be a benison for farmers across the country is now accredited as India's most effective way of automating farmers daily chores. They have also been felicitated as the second best Agri-AI venture amongst a bunch of 219 others
across the country. The team has made a continuous effort on the field to upgrade and develop a system with a vision to support the pain point of Indian dairy farmers. In a span of 2 years, as part of our journey, they traveled more than 1 lakh km on Royal
Enfield across several states and met many farmers to consult and spread knowledge on data management.
FarmTree is today bringing happiness and smiles to a large community of Indian farmers. They want to increase their pace and require funds for that. They target to reach 1000 farmer sheltered 25000 cows and need your
support in this. Help them in bridging the technology gap between the big dairy players and the small farmers.
Help them and do contribute at https://www.catapooolt.com/farmtree