In the book Sapiens: A Brief History of Humankind, which finds its place in the bookshelves of Mark Zuckerberg and Bill Gates, the author, Yuval Noah Harari writes about Peugeot, an automotive manufacturer like this, "Peugeot (the company) is a fɹgment of our collective imagination. Lawyers call this a 'legal fiction'. It can't be pointed at; it is not a physical object. But it exists as a legal entity. Just like you or me, it is bound by the laws of the countries in which it operates. It can open a bank account and own property. It pays taxes, and it can be sued and even prosecuted separately from any of the people who own or work for it."
Interesting right? The above excerpt tells you why incorporating your business came into existing and how it is useful for running a smooth business. 
Now, let's make the answer to the above question as simple as possible. After all, there is a hell lot of things you need to get onto and invest time to manifest your startup idea. 
Know your options.
So basically, these are the options and some of their sub-categories that you can choose to go with while registering your startup:
Sole proprietorship

One-person company

Partnership company

Limited liability company

Private limited company
Next is to find out which option is best for you which bring us to another question; Which business structure offers what and what not?
These are the following factors that you need to keep in mind while incorporating your business.
Liability:
Liability means the state of being legally responsible for something i.e. companies losses are yours to bear. In business terms, you could be liable for the losses your business incurs in one business structure and not if you chose another.  
Favourability to raising funds:
Some business structures are more trusted by investors. If you are planning to raise funds in the future, you can either switch to the favourable business structure or register as one initially. 
Ease of registration:
Some business structures require lesser documentation to register as and thus are less complex than others. 
The initial investment in registration:  
If that is something you are not looking to invest your money into, you can choose from the alternatives and then later switch to the one that favours your business.
Taxation:
Taxation is different for different business structures where one could take into account the income of the company treated as the income of the individual who is the owner and in the other owner and the business are treated as two different things. 
Compliance
Compliance simply refers to the company obeying all of the regulations and legal laws in regards to how they manage their business. In one business structure may need to file annual returns and get its accounts audited at multiple intervals while in others just when its turnover crosses the specified threshold.
Minimum numbers of members required:
Some business structures may require just one or two members while others may require more than two or more than two members to get it registered as a company.
ESOP:
When it comes to attracting talented employees, some business structures may allow you to give promising Employee stock ownership plan (ESOP) to your employees. 
So these were some of the important factors you shall keep in mind while deciding between which business structure to go with. 
Let's wrap it up now.
Here are the different option and their respective advantages and disadvantages, as presented by Vinay Jaisingh for Straiteis consulting: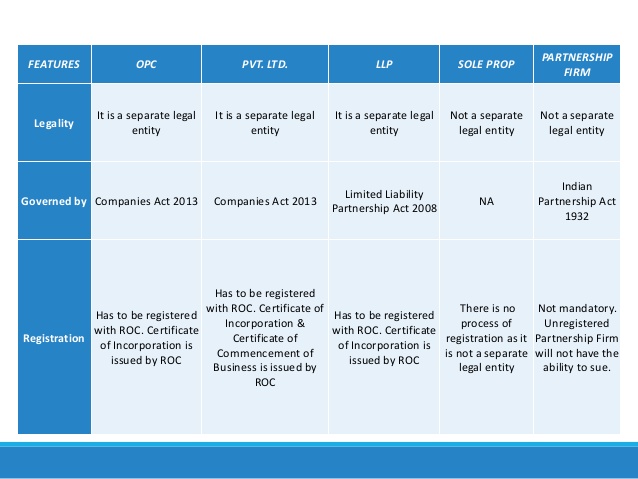 ©

Straiteis consulting/LinkedIn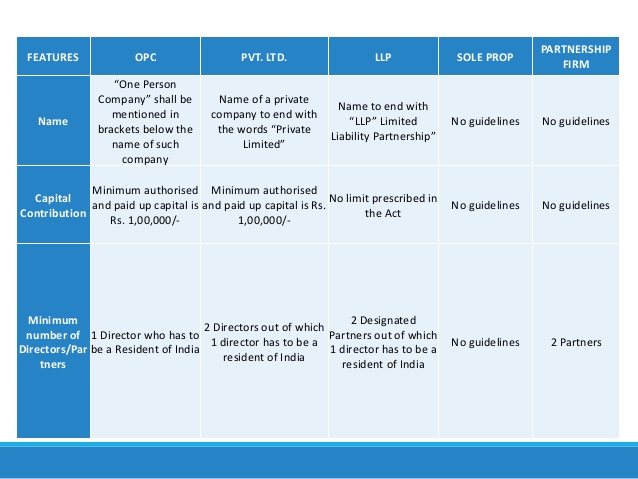 ©

Straiteis consulting/LinkedIn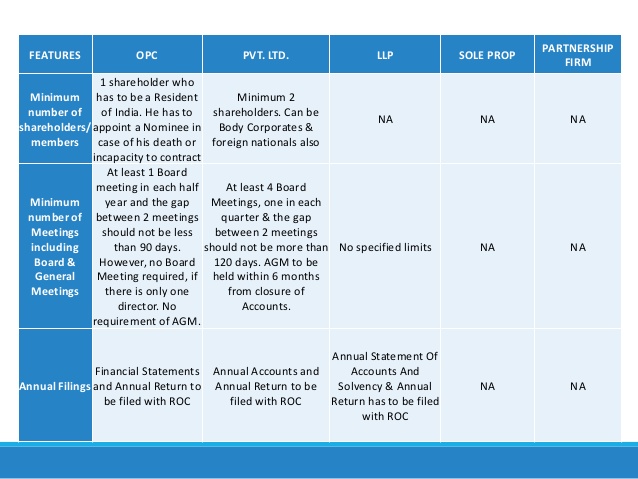 ©

Straiteis consulting/LinkedIn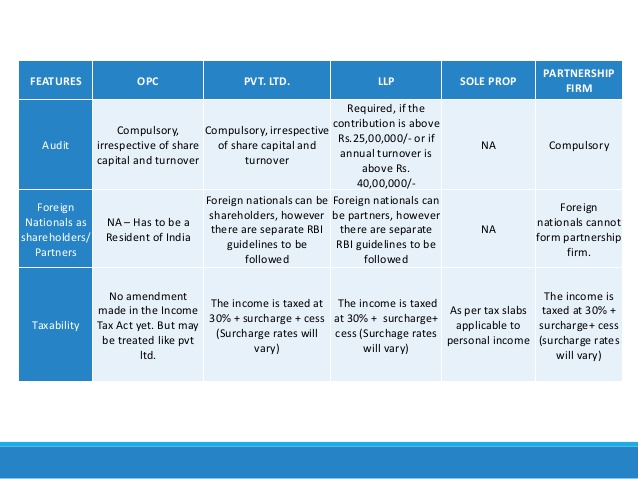 ©

Straiteis consulting/LinkedIn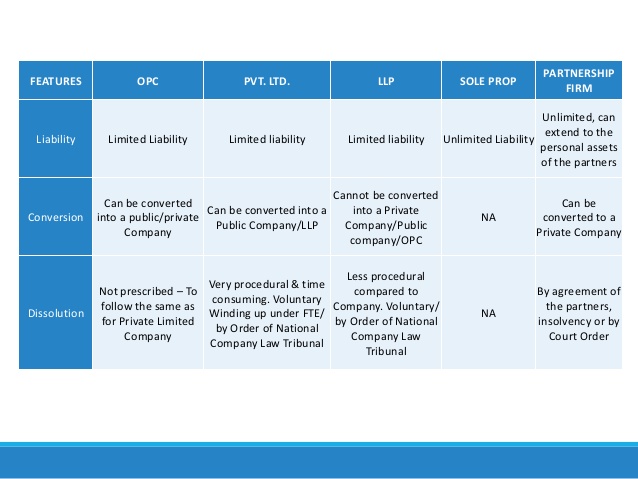 ©

Straiteis consulting/LinkedIn
Something to remember, the compulsory minimum authorised (the amount you need to reflect on the company account) and paid-up capital of Rs. 1,00,000 can be deposited within a month and the transaction is often reversed by the owners, showing it as an expense incurred in the company. 
Conclusion:
Now, you have enough knowledge on how to register your company and your next step shall be contacting your CA and finalising things after a fruitful discussion. 
Main Image: ©Judgmental Films