It must have been an out of the blue kind of situation for a group of pilots in Russia when 3 years ago they found an abandoned bear cub while pilots were reconstructing, restoring rare vintage airplanes, IL-14.

The tiny furry bundle was spotted in the distance and eventually adopted by the pilots. The cub got his name after Mansur, which means "a bear" in Altai, a Turkic language.

Do you ask what's the hype all about? Look at him, man. Ain't he adorable?

Today, his Instagram account has more than 11k followers. Dare not ask mine. It is a pathetic number. Well, It's time for us to break the internet by showering our love on his YouTube channel.

Now, when you are engrossed enough by his cuteness it is time for us to help our guy, Mansur.

It has been three years and Mansur has piled on the weight. His daily food requirements are seeing rapid growth, so much so that a crowdfunding campaign has been launched. Yes, to help feed the bear.

Mansur was moved to a bigger enclosure in a decommissioned airbase in Oreshkovo as he started to grow and the airfield and its facilities proved too small for him.

The group behind the crowdfunding campaign estimates that Mansur will need over 30,000 roubles (NZ$666) monthly for staff costs, food and maintenance of his special enclosure. That is around 32,529.47 Indian Rupee as of now. Chuckles, Mansur.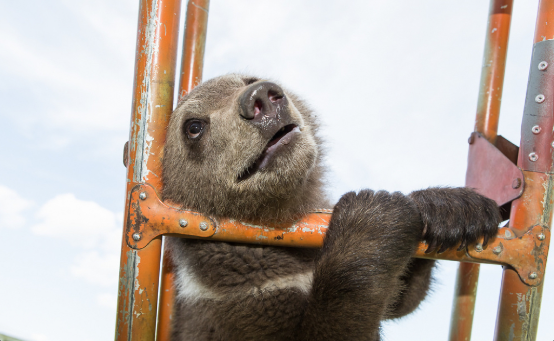 This is what Yelena Inozharskaya from the crowdfunding company DonationAlerts told the BBC

Inozharskaya says, "Usually our clients blog about playing computer games, cooking, drawing, dancing or travelling. It's hard to find anything that hasn't been streamed yet, but we're ready to help a bear earn some money."

Want to watch him play?

Sources:

Sources:

Crowdfunding campaign for Russian air bear – BBC

The Russians crowdfunding for the 'bear' necessities – Stuff

Meet Mansur – the bear with a unique fate – DonationAlerts

Main Image: ©YouTube/Mansur the bear

Lemon.Connect – Biggest Fintech Conference in London #JoinTheConf April 23 – 26, 2019. Register now!