Elon Musk, the name is enough, isn't it? He is like an infinite pool of knowledge and be inspired from. Here are some of his quotes and something that you can take away from it. You might get your own lessons as per your life.
Quote 1: "Being an entrepreneur is like eating glass and staring into the abyss of death." – Elon Musk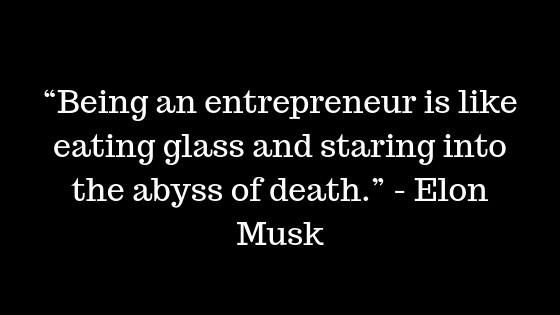 Relevance: When students of Draper University visited Tesla factory, they asked Elon, "As an established entrepreneur, what is the number one tip you have for all the young entrepreneurs waiting to startup?"
He said, "I think it's very difficult to start companies, it's quite painful. A friend of mine has a good phrase for doing a startup: it's like eating glass and staring into the abyss. If you are wired to do it, then only do it, not otherwise. So think of it this way – if you need inspiring words, DON'T DO IT!"
Quote 2: "It's OK to have your eggs in one basket as long as you control what happens to that basket." ― Elon Musk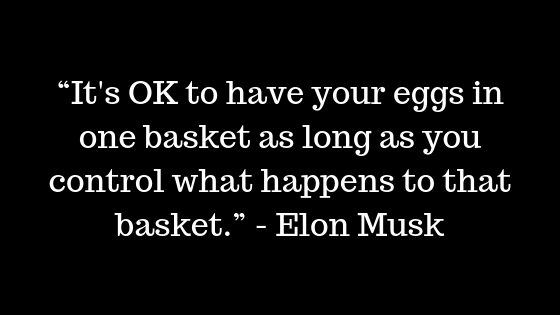 Relevance: I hope you remember Elon's Zip2 Corporation, PayPal, SpaceX, Tesla Motors, SolarCity, The Boring Company, and Neuralink. Many a time he was close to bankruptcy in some of these ventures and failed in delivering on deadlines he anticipated but today most of them are flourishing. He chose where to invest his time and money very wisely and controlled the process. That is detailed work and a sign of huge dedication, intelligence and wise decision-maker.
It doesn't matter if you put all your eggs in one basket or many, it is you, and how much you know yourself that matters.
Quote 3: "Don't delude yourself into thinking something's working when it's not, or you're gonna get fixated on a bad solution." — Elon Musk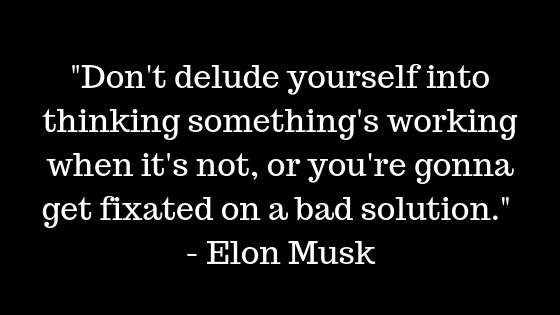 Relevance: Suppose you are preparing for an exam. Let's suppose it is, CFA. Now if you think you can crack it within a month's preparation when you actually know you need much more time then that, it simply is bad planning. You are living in a delusion. You need to get out of it and set practical goals that you can achieve in a certain period of time.
Is Elon saying he can go to Mars in a month? No. Set practical goals.
Quote 4: "It is possible for ordinary people to choose to be extraordinary." ― Elon Musk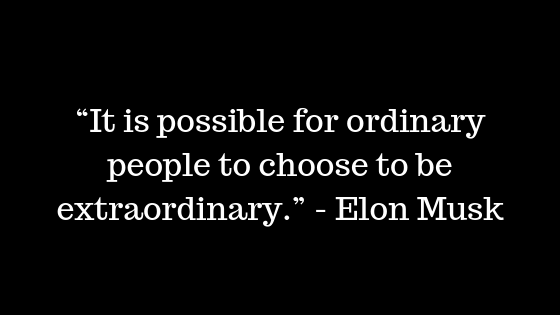 Relevance: Most of the Potterheads are aware of J. K. Rowling's rags to riches story. Not many people had heard of her name until the day First Harry Potter novel was published. She once said that at one point of time when she felt like a failure, it was then when she felt liberated, that's when she started working on Harry Potter and rest is history. She chose to be extraordinary and she did it.
Quote 5: "When something is important enough, you do it even if the odds are not in your favour." ― Elon Musk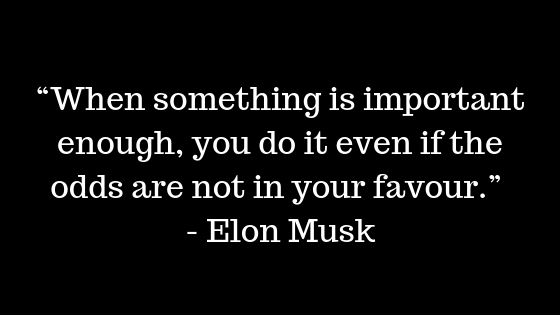 Relevance: How many successful private ventures you can recall in the space industry? It's hard to recall any except SpaceX which has done a tremendous job. It is a complex field to bet upon. He did it despite all odds because he cared. He believes it is important to make human beings a multi-planetary species.
Quote 6: "You shouldn't do things differently just because they're different. They need to be better." — Elon Musk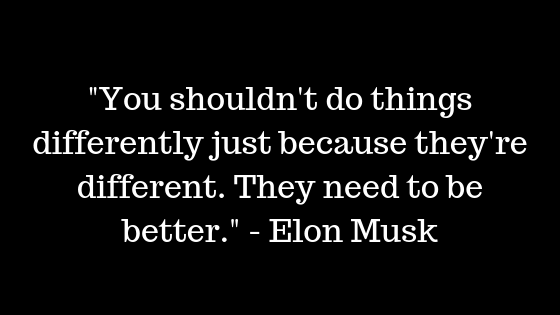 Relevance: Most of the first time entrepreneurs are deluded into creating something different. It is common sense if something is not better then the current solution, how much does it matter to be different?
Quote 7: "There's a tremendous bias against taking risks. Everyone is trying to optimize their ass-covering." – Elon Musk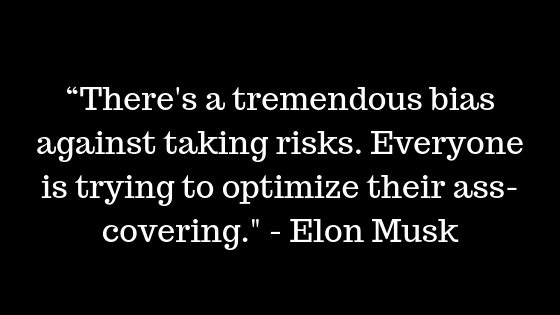 Relevance: This simply can be related to the career choices we make in life. You could have enjoyed your life much more being a physicist but you chose to be a software engineering as a stable option. That is just one example. You could be anything you wished to be but then why did you settle for something less. Take a chance, it's never too late.
Quote 8: "Some people don't like change, but you need to embrace change if the alternative is disaster." – Elon Musk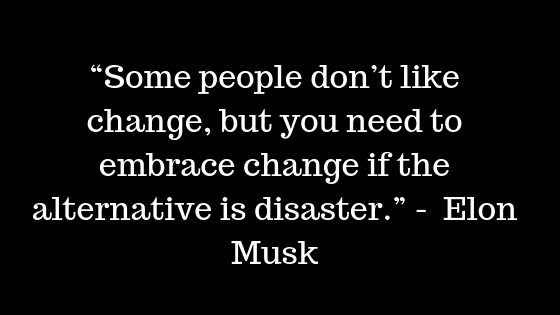 Relevance: Many of us who are keen to follow Elon Musk's life events aware of how Elon was in severe pain after his breakup with Amber Heard. It broke him, as he said, but did that stop him from moving on? Did he let his loneliness affect his professional life? He took his time but then embraced the change which is inevitable.
Quote 9: "If you're trying to create a company, it's like baking a cake. You have to have all the ingredients in the right proportion." – Elon Musk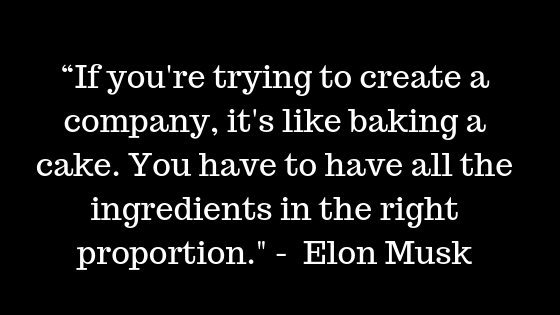 Relevance: You would be very lucky if you can make your very first venture achieve the success you desired of but that rarely happens. Isn't it? You practice, fail but do not give up and that's how you learn to build a company that creates value.
Quote 10: "I think we have a duty to maintain the light of consciousness to make sure it continues into the future." – Elon Musk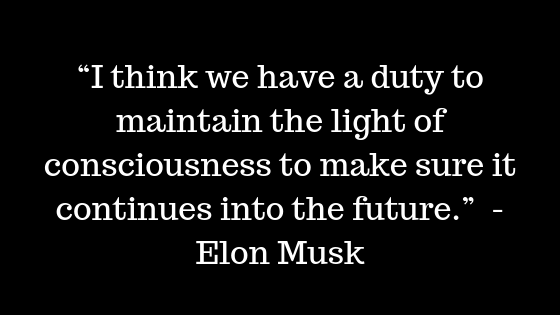 Relevance: What do you think is the mission of SpaceX? Making human a multi-planetary species? Yes, that is one but what why make it a multi-planetary species? It is to keep the light of consciousness alive. To keep looking for the answers to questions like, why we are here? How does the universe work?
Main Image: ©SpaceX